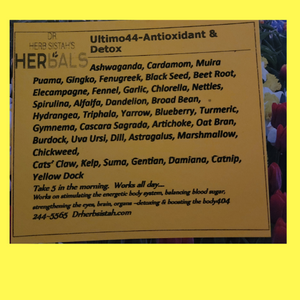 This anti-oxidant is great for Energy, sustained Energy.
One Sistah that buys it regularly for her husband that works outside in this Georgia heat, says that he can't work without it...Her son runs Cross Country track at a University in Alabama (Hot!!) and he told his mom that he can't run out!
I take 5-7 daily as my multi-vitamin and I can tell if I don't take it...
That's the thing..when you are taking your herbs and everything is humming right along, you don't notice anything extraordinary, but run out for a while and you will be like my client in The Honduras, that had me FEDEX his herbs to him for $215, for a $240 order. Yikes!!  You notice!!
Good Anti-oxidants keep growths from appearing in your body..by stopping the free radicals that cause an anomaly in the tissues.  Very helpful in Fibroids, Endometriosis, PCOS and even helpful in body mole growth reduction.