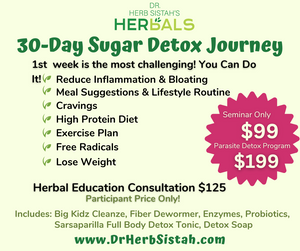 This 30-Day Sugar Detox Journey gives you 5 weekly seminars, support, exclusive Q&A and herbal parasite detox program* that you need to reset and thrive!
Thank you for purchasing our 30-Day Sugar Detox Journey Seminars! We're excited to have you join us and learn from Dr. HerbSistah and expert speakers. Please note that the registration fee only grants you access to the seminars. 
To facilitate the herbal reset that you need to heal and thrive, we highly recommend that you purchase the Herbal Parasite Detox Program.  Every participant you will hear on the recordings used this program.  (Our 30-Detox Sugar Detox Journey was created with this detox program as the foundation). 
The Herbal Parasite Detox Program is available for purchase here.  By purchasing the program, you'll experience a range of benefits, including reduced inflammation and bloating, reduced cravings, reduced brain fog, weight loss, and the elimination of parasites and candida that feed on yeast and alcohol. You'll also be able to boost your natural killer cells and strengthen your immune system to help fight off infections and diseases.
In addition, the program is formulated to help soothe nerves and includes enzymes that can shrink fibroids and remove fibrosis.
Investing in your health is the first step towards achieving your goals, and we believe that the Herbal Parasite Detox Program is an excellent way to support your body's natural healing abilities. So, we encourage you to make the purchase and experience the transformative benefits of this program.


**If you need specific counseling around your concerns, we offer a discounted Herbal Education Consultation for participants only..for $125, purchase it here.